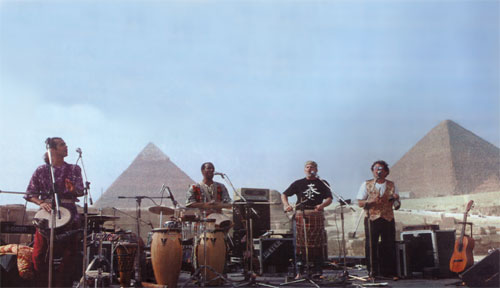 Dijeridoo Productions is David Stocker's booking & management agency. The services below are typical fare, and may be customized to suit the customer:
Educational Performances
Each performance by the group is structured to include song, dance, stories, Q & A, sing-a-long and hands on learning. (45-60 minutes)
"Around the World in Fifty Minutes"
An exciting interactive show that takes us on a tour of the common origins of music and dance in several of the world's cultures.
"Let Peace Begin With Me"
Songs and stories to encourage critical thinking in conflict resolution. How music and expressive arts can change people, and heal ancient wounds.
"It Takes A Village…"
This music and story filled presentation takes a look at the world around us from the perspective of the child.
Workshops
African Dances and Songs #
Songs of Struggle, Change, and Protest
American Folk Music Tradition #
Sing-a-long Songs for Young Children #
Introductory Capoeira: Afro-Brazilian Dance/Martial Art Form
The Story Tradition: How Stories are Made & Told #
Performing Arts: A Career Seminar
Percussion Instruments of Africa #
Basic Rhythms of Latin America #
Meditations and Blessings
Therapeutic Use of Music
Care, Maintenance and Reskinning of African Drums *
Making Simple Instruments (choose from 6 instruments) * #
Techniques of Playing the Dijeridoo * #
Creating an Ethnic Mural * #
Between Music, Light & Thought
Workshops are typically 30-50 minutes
* involves materials cost per student
# multi-session or can be planned as part of an extended residency
Story Theatre
Dijeridoo: Where the Stars Came From – An Aboriginal Creation Story
Kweku: The Little Boy Who Brought Musiki to the People
The Monkey & the Gourd: A Story of Attachment and Consequence
Shekere and Agogo: How to Have a Good Life on Earth
Berimbau: How an African Queen Chose Peace Over War
Each story theatre segment is approximately 30 minutes
Please contact David for all inquiries.